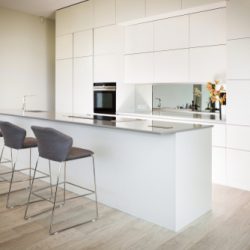 When it comes to designing a space, versatility is key. One material that offers versatility and endless design possibilities is Corian solid surface. Initially popular for its use in countertops, Corian has evolved to become a go-to material for various applications, including wall cladding, sinks, and even furniture. In this blog post, we will explore the versatility of Corian solid surface and how it can transform any space.
1. Countertops:
Corian solid surface countertops are known for their sleek and seamless appearance. The material can be custom fabricated into any shape or size, allowing for unique designs that fit perfectly into your space. With a wide range of colors and finishes, Corian countertops can be tailored to match any aesthetic, from modern and minimalist to classic and luxurious. Additionally, Corian is non-porous, making it resistant to stains, mold, and bacteria, ensuring a hygienic and low-maintenance surface.
2. Backsplashes:
Corian solid surface makes an excellent choice for backsplashes due to its ability to seamlessly blend with countertops. With no grout lines to clean and a range of colors and patterns to choose from, Corian backsplashes offer a sleek and modern look. The material is also highly durable and resistant to heat and moisture, making it a practical choice for kitchen and bathroom spaces.
3. Sinks and Basins:
Corian sinks and basins are incredibly versatile and can be seamlessly integrated into countertops. The non-porous nature of Corian makes it resistant to stains, making it an ideal material for sinks and basins where water and cleaning products are commonly used. The seamless integration between the sink and countertop creates a cohesive and visually pleasing design while also providing a easy-to-clean surface.
4. Wall Cladding:
Corian solid surface is an excellent material for wall cladding, transforming plain walls into elegant and textural features. With its vast range of colors, patterns, and 3D options, Corian can add depth and dimension to any space. It can be fabricated into large panels or custom-designed shapes, allowing for endless design possibilities. In addition to aesthetics, Corian also offers practical benefits, as it is easy to clean, hygienic, and durable, making it suitable for a wide range of applications, including commercial and residential areas.
5. Furniture:
Corian solid surface is not limited to countertops and walls; it can also be used to create stunning furniture pieces. From dining tables to coffee tables, chairs, and even shelving units, Corian can be fabricated into various furniture designs. Its seamless and customizable nature allows for unique shapes and sizes, ensuring that your furniture piece is tailored to your exact specifications. The smooth and luxurious feel of Corian adds an extra touch of elegance to any furniture design.
6. Lighting:
Another innovative use of Corian solid surface is in lighting fixtures. The translucency of certain Corian colors allows light to pass through, creating a soft and warm glow. Corian can be used to fabricate pendant lights, wall sconces, and even lampshades. This unique application adds a touch of sophistication and ambiance to any space, whether it's a residential living room or a commercial office.
7. Vertical Applications:
Corian solid surface can also be used in vertical applications such as columns, partitions, and decorative wall panels. Its flexibility and ability to be thermoformed allow for stunning curved designs, adding visual interest and personality to architectural spaces. With its customizable options, Corian enhances the aesthetic appeal of both commercial and residential spaces.
Conclusion:
From countertops to wall cladding, sinks, furniture, lighting, and beyond, Corian solid surface offers versatility and endless design possibilities. Its durability, customizable nature, and wide range of colors and finishes make it an excellent choice for both commercial and residential projects. Whether you're looking to transform your kitchen, bathroom, or any other space, consider the versatility of Corian solid surface to elevate your design aesthetic and create a stunning and functional environment.
Got Questions? Let Us Help!
Established in 2009, Superior Surface is a countertop contractor based in Orangevale, California. We specialize in a variety of services including countertop manufacturing for commercial and residential locations, bathroom remodels, showers, vanities, and more contracting services. As a fully licensed contractor for over 15 years, we value providing quality services, speed, and great pricing. Contact us today for a free estimate!