When it comes to countertops, you have a lot of choices—and that's before you even get into color and style. Three of the most popular material choices are natural stone, engineered quartz and solid surface countertops. All three have different advantages and drawbacks.
Here's how to choose between natural stone, quartz or solid surface countertops.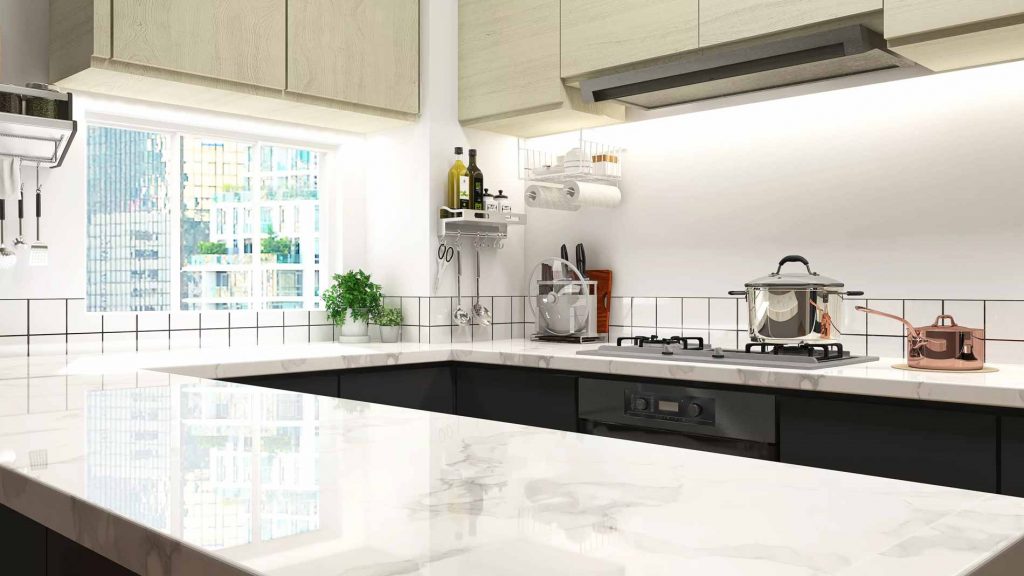 Natural stone
Natural stone is exactly what it sounds like: giant slabs of natural stone, mined, shined and shipped to your kitchen. Granite and marble are two of the most common types, but you may also see travertine, quartzite and soapstone countertops.
If you love the beauty of real, naturally formed rocks, natural stone countertops offer a unique kind of beauty. These countertops are durable and beautiful, and rarely have to be replaced. However, they tend to be extremely porous—especially marble. If you choose a natural stone countertop, be aware that you'll need to spend some time sealing and caring for your countertops.
When you have small children or simply don't have the time to devote to caring for these countertops, natural stone is probably not a good idea. However, if your lifestyle and budget support the choice, their beauty is unparalleled.
Engineered quartz
Engineered quartz is made with real stone, but not large slabs like you'd see in natural stone countertops. Instead, quartz pieces are bound together with resin. You get the look of natural rock, but it's harder, more durable and less porous. Plus, since the stones are not cut in slabs, different stones and resin colors can be combined to create a wide variety of colors and styles.
This countertop type does have one major drawback: the resin can discolor over time. While you won't have to worry about one spilled glass of red wine staying on your countertop forever, you will still have to dedicate some time to countertop care. Engineered quartz's durability and beauty more than make up for the extra time you'll spend on caring for them.
Solid surface
Finally, you might consider solid surface countertops. Solid surface countertops were designed to be completely solid the entire way through—unlike natural stone, which may have veins and imperfections.
The best part about solid surface countertops is that they will remain completely mold, mildew and bacteria free as long as you use them.
Homeowners can use an orbital sander whenever they need to refinish their solid surface countertops. They're also a good midrange budget choice that somewhat mimics the look of stone. While perhaps not as beautiful as natural stone or engineered quartz, these counters are durable, strong and non-porous. In other words, they're a lot lower maintenance than other countertop types. Choose solid surface when you want a step up from laminate, but don't want to spend the money on engineered quartz or natural stone countertops.
When you're trying to decide between engineered quartz vs. natural stone or solid surface, call the team at Superior Surface. We'd be glad to help you find the perfect counters for your home.